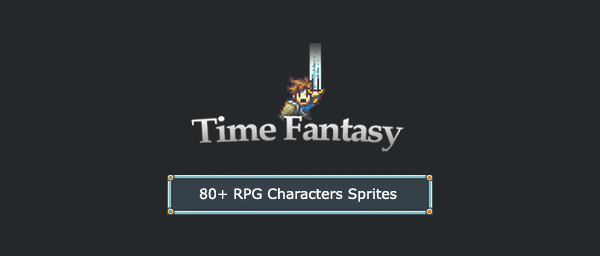 80+ RPG Characters Sprites
Comments
Log in with your itch.io account to leave a comment.
can i make a char maker with your pics and sell the tool?
Maybe. You can't resell the graphics so it's borderline -- Send me an email with some more details and I'll take a look.
Love all the packs. Is there any way to purchase them all as a single pack?

Not right now. Sometimes they go on a bundle sale.

In the future I'm going to put together an ultimate bundle, but I have a couple more releases planned first! Then I'll put them all in a mega pack!
Thanks!
is this for commerical use? i want to add this asset to my engine as the default images and then sell the engine with it.
It's for commercial use for individual projects but not for reselling-- if you're selling an engine that's a special case, it might be reselling. Send me an email via timefantasy.net and maybe we can work something out.
hello, I was wondering, are these just a compilation of your other character packs, or are these materials in this, that are not in the other packs?

Hello, I first wanted to say that your art looks amazing. And secondly, will purchasers be able to get these expansions for these attack animations for free or will there be a add on price?

-Thanks again
Hi there, I'm so glad I found you because I love your art. Do you have a gif or a video showing the character weapon animations/action pose? I would like to see that before I purchase this if possible. Thanks!
can i change the sprites? Change color or add items?
Looks awesome. For the heroes/villians when you say.
Special animations: 3-frame weapon or action pose
Do you mean actual attack animations for say an action battle system? Just want to be clear on that before I make the purchase.
Just as a response to you and any future buyers. I had bought this pack, and they are poses. Most aren't animations that can be used in action/combat battle system.
The poses are animated. They are simple 3-frame "idle / weapon ready" type animations, as explained in the description.

The animations are to provide additional personality to characters or cutscenes. They can be used in rpg-style battles if wanted but that was never their purpose.

Additional "battle animations" are on the to-do list for a possible future expansion. This is a LOT of characters though so that is not an easy task.
That's understandable, I wasn't trying to be negative about the sprites, they look great. Just wanted to be honest as to what's there. I bought it expecting some basic attack animations.

I hope to see them in the future, thanks for your great work.