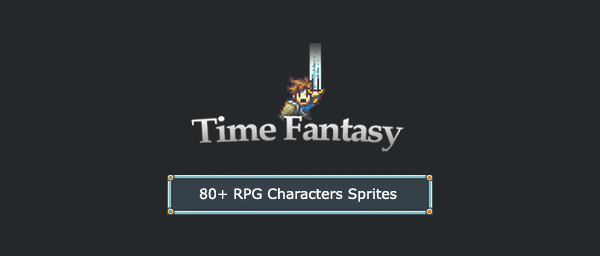 80+ RPG Characters Sprites
A downloadable asset pack for Windows, macOS, and Linux
Bring your game to life in crisp pixel art with these RPG character sprites. This pack includes a wide variety of characters that feel like the classic RPGs of the SNES era.
This pack is compatible with all graphics in my Time Fantasy style.
For more character sprites and monster sprites in this same style: Time Fantasy Monsters Pack
Note: The environments shown in the screenshots are from my RPG Tiles Pack.
Over 80 characters with animations! Here are the details:
32 main "hero/villain" characters
4-directional walking animations
Emotion animations: nod, smh, laugh, surprise
Special animations: 3-frame weapon or action pose
24 military characters
4-directional walking animations
Special animations: 3-frame weapon "ready" pose
Multiple factions : medievial solders/knights + modern/future troopers and generals
16 NPCs
4-directional walking animations
Recolored NPCs make 32 NPCs
Also Includes
a "naked" template sprite for artists
8 animated treasure chests
8 bonus characters from timefantasy.net*
animal sprites (4 cats, 4 dogs) from timefantasy.net*
*these sprites were previously released for free on the timefantasy blog. they're included for convenience
---
These assets are made to fit with the other Time Fantasy asset packs:
Check out the website at timefantasy.net for updates and freebies.

Purchase
In order to download this asset pack you must purchase it at or above the minimum price of $15.00 USD. You will get access to the following files:
timefantasy_characters.zip
2 MB
Comments
Log in with your itch.io account to leave a comment.
can i make a char maker with your pics and sell the tool?
Maybe. You can't resell the graphics so it's borderline -- Send me an email with some more details and I'll take a look.
Love all the packs. Is there any way to purchase them all as a single pack?

Not right now. Sometimes they go on a bundle sale.

In the future I'm going to put together an ultimate bundle, but I have a couple more releases planned first! Then I'll put them all in a mega pack!
Thanks!
is this for commerical use? i want to add this asset to my engine as the default images and then sell the engine with it.
It's for commercial use for individual projects but not for reselling-- if you're selling an engine that's a special case, it might be reselling. Send me an email via timefantasy.net and maybe we can work something out.
hello, I was wondering, are these just a compilation of your other character packs, or are these materials in this, that are not in the other packs?

Hello, I first wanted to say that your art looks amazing. And secondly, will purchasers be able to get these expansions for these attack animations for free or will there be a add on price?

-Thanks again
Hi there, I'm so glad I found you because I love your art. Do you have a gif or a video showing the character weapon animations/action pose? I would like to see that before I purchase this if possible. Thanks!
can i change the sprites? Change color or add items?
Looks awesome. For the heroes/villians when you say.
Special animations: 3-frame weapon or action pose
Do you mean actual attack animations for say an action battle system? Just want to be clear on that before I make the purchase.
Just as a response to you and any future buyers. I had bought this pack, and they are poses. Most aren't animations that can be used in action/combat battle system.
The poses are animated. They are simple 3-frame "idle / weapon ready" type animations, as explained in the description.

The animations are to provide additional personality to characters or cutscenes. They can be used in rpg-style battles if wanted but that was never their purpose.

Additional "battle animations" are on the to-do list for a possible future expansion. This is a LOT of characters though so that is not an easy task.
That's understandable, I wasn't trying to be negative about the sprites, they look great. Just wanted to be honest as to what's there. I bought it expecting some basic attack animations.

I hope to see them in the future, thanks for your great work.