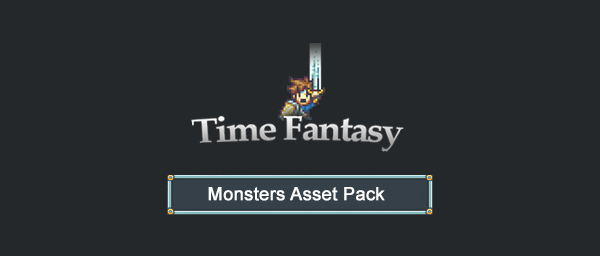 Monsters Time Fantasy RPG Sprites
A downloadable asset pack for Windows, macOS, and Linux
Get this asset pack and 11 more for $80.00 USD
View bundle
Create epic battles in your RPGs with the Time Fantasy Monsters pack. This pack includes over a hundred new sprites in the Time Fantasy style, with 24 human characters and over 80 animated monsters!
This pack is compatible with all graphics in my Time Fantasy style.
Note: The environments shown in the screenshots are from my RPG Tiles Pack.
Time Fantasy is being invaded by monsters! Tribes of orcs ravage the land. The forests have come alive. Creatures lurk in the shadows of dungeons. Heroes charge into battle on horseback. This collection of sprites introduces a huge variety of heroes, monsters and bosses to bring your game's battles to the next level.
This pack includes:
20 "oversized/boss" monster sprites; 40 regular monster sprites
All monsters have full four-direction walking animations and single-frame battlers, perfect for side-view battles
16 unique orc character sprites
Full sheet of 8 horses
24 new character sprites with emotion animations, pose animations, and horse-riding variations
16 new NPCs
Over 100 sprites total!
NEW: Check out the RPG Battlers expansion pack for additional animations for some of these characters.
---
These assets are made to fit with the other Time Fantasy asset packs:
| | |
| --- | --- |
| Published | Feb 08, 2016 |
| Status | Released |
| Category | Assets |
| Rating | |
| Author | finalbossblues |
| Genre | Role Playing |
| Made with | GameMaker: Studio, RPG Maker |
| Tags | 16-bit, Monsters, pixel, Pixel Art, Retro, RPG Maker, sprites |
| Links | Homepage, Fantasy RPG Tiles Pack, 80+ Character Sprites |
Purchase
Get this asset pack and 11 more for $80.00 USD
View bundle
In order to download this asset pack you must purchase it at or above the minimum price of $10 USD. You will get access to the following files:
tf_monsters_assetpack.zip
3 MB
Comments
Log in with itch.io to leave a comment.
Does this work for 2D Sidescroll Sandbox?
Hi, i'd like to look at including your assets in a project but I need to clarify a few things. Can you please provide me with an email address - my contact is jon.silvera@fuze.co.uk

Many thanks
What size are all of your tile sets? 24x24?
Do these have atack animations in all 4 directions? And an animated gif of one of them atacking would be nice
Hey, there is a chance that you will cut this spritesheets to frames, like in packs from Characters Sprites?
Awesome sprites by the way ;).
Hey there. I'm a card game developer looking to make a game with, like, printed cards and actual physical objects, using pixelly art for a nice retro aesthetic. The licensing agreement here you've linked _seems_ to suggest that both may be okay (as using the sprites as static art is derivative work) and may NOT be okay (as it would be extracting the sprites to a different media form).

You got any sayso on this?

Quick question, three actually
1) is everything animated? (horses, monsters, characters). And if so, are they animated in the four directions?
2) what is the license on the images?
3) can we modify and tweak if we like? for example color pallette shifts, add/removing parts, etc
Thanks
This looks amazing! How large are the "oversized" monsters? Are they big enough to look decent in a 32x32 tiled world?
This might help you gauge the size:
Human, regular-sized monster and an oversized "boss" monster. 100% size on a 16x16 grid.