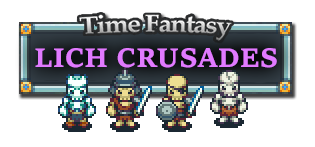 Time Fantasy: Lich Crusades
A downloadable asset pack for Windows, macOS, and Linux
Note: This pack is a special download for Patrons. You'll get a download key if you subscribe to my Patreon page.
---
Time Fantasy: Lich Crusades
This character pack is compatible with all graphics in my Time Fantasy RPG style.
This pack includes 32 new character sprites:
8 undead/skeleton soldiers.
Elemental (fire and ice) skeletons and lich-lords.
Two necromancers (male and female) with human and undead forms.
8 crusader/paladin characters.
8 angels (including a dark angel and a fallen angel)
Downed/dead sprites for the skeleton soldiers.
(The angels come with and without wings, so they can be used as regular characters)!
This pack includes versions of these sprites formatted for use in RPGMaker VX/Ace and RPGMaker MV, as well as sprite sheets in a regular 100% size. Also includes individual frames as separate images.
---
These assets are made to fit with the other Time Fantasy asset packs:
---
Check out my website at timefantasy.net for updates and freebies.

Download
This asset pack is currently unavailable