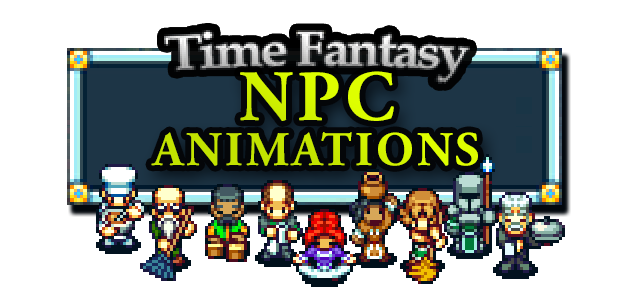 Animated NPC Sprites Pack
A downloadable asset pack
Get this asset pack and 20 more for $130.00 USD
View bundle
Note: Patrons can download this pack for free! patreon.com/finalbossblues
---
This pack is a collection of NPC sprites, with a focus on unique action animations to make your world more lively.
This pack includes a variety of NPC actions for generic characters, including:
Eating and Drinking
Raking, Shoveling, Gardening,
Singing and Dancing
Playing Instruments
Praying, Reading
Children Playing
... and more!
The set also features some more distinctive NPCs with multiple animations each:
Blacksmith
Executioner
Bard
Farmer
Maid
Butler
Chef
Priest and Priestess
Also: a set of knights, with different flags and colors to represent up to eight factions or kingdoms.
This pack includes versions of these sprites formatted for use in RPGMaker VX/Ace and RPGMaker MV, as well as sprite sheets in a regular 100% size. Also included are individual frames for easy use in any engine, including Game Maker Studio 2.
These assets are made to fit with the other Time Fantasy asset packs:
In particular this pack is designed to expand on sprites from the base Time Fantasy characters pack and the Monsters expansion.

---
This release is only possible because of generous patrons.
Check out my website at timefantasy.net for updates and freebies.
Purchase
Get this asset pack and 20 more for $130.00 USD
View bundle
In order to download this asset pack you must purchase it at or above the minimum price of $5 USD. You will get access to the following files:
npc-animations-8.20.zip
2 MB
Comments
Log in with itch.io to leave a comment.
Hello!
Does this pack have an animated sprite of a blacksmith working at the forge?
Hello! I have some quick questions:

Are these characters all different from the Character Sprites pack?
Do they have all 4-way idle and walk frames?

I'd like to use this sprites pack, but I'm not sure how versatile these characters are yet.
Some have full 4-dir walk cycles, those are the the characters designed for this pack. Others only special animations are included here, because it's an expansion- they have full walk animations in the original characters set.
Are the animations limited to certain characters, or do they work for All TF character sprites?
Some of them have walking animations, if that's what you're asking. The bards, blacksmith, people carrying stuff, children, executioners, knights, king, farmers, maid, butler, chef, and four characters labeled "townsfolk" all have 3 frame walking animations. The rest do not.

Sure, no reason not. They're not yet fully optimized for unity, but you should be able to get the sprite sheets going, from what I know unity is pretty flexible.
Thanks
This is amazing! Thank you so much for your work!
This is one of your best packs yet! If I can ask, would you consider an expansion later down the line? (For example, Dwarves and Elves, The character expansions, and Future Fantasy)
Hey! I really like this pack, I like all the animations very good job!