Cloud City Tileset
A downloadable asset pack
This tileset is a FREE release for anybody to download.
This tileset is a mini-expansion for the Time Fantasy RPG assets. It's compatible with all other graphics that I release in my Time Fantasy style. Can also be used as a standalone tileset.
I created this set as a reward for reaching a goal on my Patreon page. Thanks to my wonderful patrons for making this free release possible!
To support my work and contribute towards more free releases in the future, check out the page here: www.patreon.com/finalbossblues
This set includes versions formatted for use in RPGMaker VX/Ace and RPGMaker MV, as well as a regular tile-sheet based on a 16x16 grid.
----
These assets are made to fit with the other Time Fantasy asset packs:
----
Check out the website at timefantasy.net for updates and freebies.
Download
Click download now to get access to the following files:
Comments
Log in with itch.io to leave a comment.
I absolutely love this! thank you!
Hi I want to use this Part of The cloud Tile Set But it is in the wrong size, and it has been since I got it. How can I change it?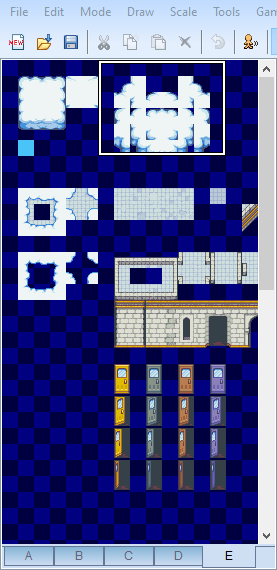 Looks like that's the master sheet. There should be versions included that are formatted for use in RPGMaker. Check if there's subfolders. Thanks
I have purchased some of your TimeFantasy tilesets from steam for RPG Maker MV but can I use them on MZ as well. I own both MV and MZ.
Yes that's fine, you can use them on both. Thanks!
Could I use this wonderful tile into another maker tool?
Go ahead, There are no engine limits to the itch.io releases!
This look amazing. Thank you so much. This can be used for a top down game? The credits go to finalbossblues?
thank you so much, again.
Thank you! This looks amazing. I'll be sure to credit you.
I've been learning how to put together a game with a majority of your assets. I would just like to make sure if they can be used for commercial use. I can't find a clear answer anywhere.